The following article was written by Jessica Alexanderson, also known as ScubaJess. Jess loves to dive in the Salish Sea in Washington state. But over time, she began to see more and more plastic and trash in the sea, especially aluminum cans, which are infinitely recyclable. She knew she had to take action, but didn't quite know where to start. 
So she assembled a team to help: Brad Rudover, a metal recycling guru who owns Detroit Scrap and Scrap University, and Shaziya M. Jaffer, an elementary school teacher in Burnaby, BC. They formed Scrap University Kids in 2022, showcasing all the little ways kids and their communities can make a difference!
To be inspired by other climate activists, check out Rebel Girls Climate Warriors: 25 Tales of Women Who Protect the Earth and Jess' book, The Girl who Recycled One Million Cans!   
---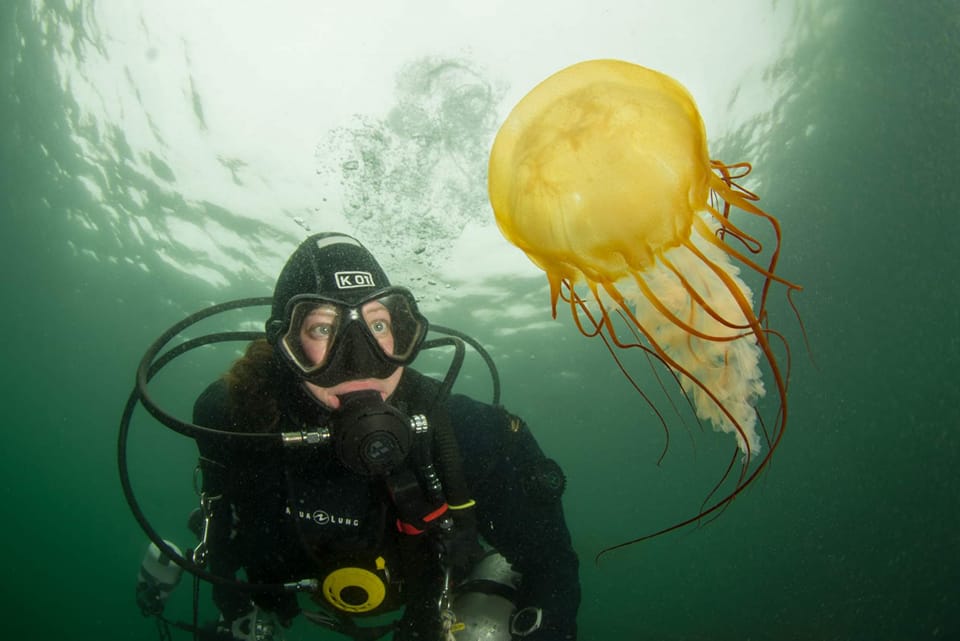 I'm Jessica Alexanderson, also known as ScubaJess, and I reside in the stunning city of Seattle, WA. Living in the Pacific Northwest, surrounded by magnificent trees and water, is an absolute delight. It's no wonder I fell in love with scuba diving eight years ago, and have since completed nearly 1,300 dives, mostly in the cold, emerald-green waters of the Salish Sea.
What I cherish most about scuba diving is the opportunity to witness the amazing sea creatures that call the Puget Sound home. But as much as I love exploring the sea, it breaks my heart to see the amount of pollution in our waters. 
It's disheartening to encounter plastic, aluminum cans, half a million tires, lost fishing gear, crab pots, and much more during my dives. This is what motivated me to pursue a career change. 
For 15 years, I worked at Evergreen Shipping, overseeing the transportation of containers across the globe on massive cargo ships. From imports to exports, I gained valuable insights into how the world operates. I learned about the transportation of different commodities, where they were shipped, and what they were transformed into before being shipped back. It was truly fascinating to witness firsthand.
But during the COVID-19 pandemic, the entire supply chain was disrupted and the world came to a standstill. As much as I loved my job, I knew I didn't want to stay in that line of work forever. Instead, I wanted to contribute to ocean conservation efforts. While organizing clean-up dives and capturing photos of sea creatures was a start, I felt there was more I could do.
We only have a limited time on this incredible planet, and I wanted to make the most of it by sharing my knowledge with the next generation. So I decided to leave Evergreen and explore ways to make a positive impact on the world, particularly in the realm of ocean conservation.
I didn't know what job to pursue to help the planet, but I knew I had to take action. So many people talk about making a difference, but progress seems slow, and our precious marine life cannot wait any longer. They need our help now.
At Scrap University Kids, we're determined to address the metal recycling problem. Did you know that only 45% of aluminum cans in the USA get recycled? The rest end up in landfills, oceans, or as litter on the roadside. Did you also know that metal is infinitely recyclable? This means they can be used again and again. In fact, when you recycle an aluminum can, it gets turned into a new can in as little as three months!  We wanted to focus on just one thing to show kids that they can all do their part to help our planet!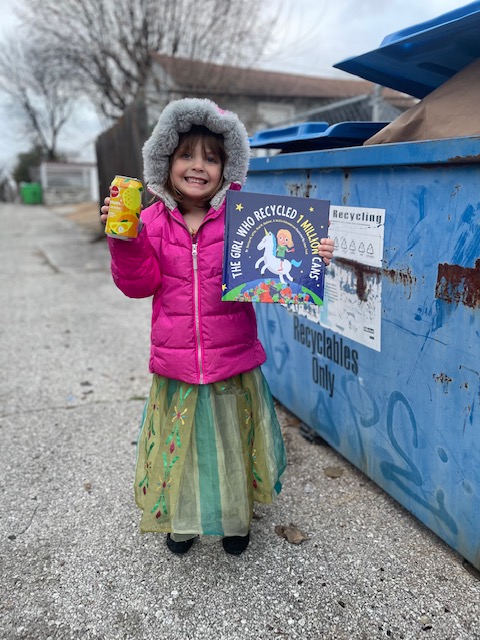 Quick Facts About Recycling Metal
via Can Manufacturers Institute, the trade association of the metal and composite can manufacturing industry and its suppliers in the United States
Recycling aluminum cans saves a lot of energy – enough to power a TV for three hours!
Throwing away aluminum cans is bad for the environment— it can take up to 500 years for a can to decompose in a landfill.
It only takes 2-3 months from the time you put a can in a recycle bin until it's back on your store shelf. 
You can actually earn money from recycling metal at your local recycling center. Recycling metal generates revenue and creates job opportunities.
Nearly 75% of aluminum and steel cans ever produced are still in use today.
New cans produced with recycled aluminum reduce greenhouse gas emissions by 95% and help mitigate climate change.
Aluminum and steel cans are 100% recyclable forever, metal can recycle over and over again unlike plastic.
The USA recycles 45% of aluminum cans and 58% of steel cans, let's do better! 
Aluminum cans are non-ferrous (not magnetic). Steel cans are ferrous (Magnetic), Scrap Yards pay for ferrous by the ton and non-ferrous is paid by the pound. 
Metal Recycling Tips
At Scrap University Kids, we show kids and parents how easy it is to bring recycling into everyday life. Remember, every little action helps! 
Keep a special box under your sink or near your garbage can for used foil. You can save the foil from candy wrappers, yogurt lids, sour cream lids, pie tins, and foil you use to cook. After you rinse off any food, crunch the foil into a ball and save it in the box. When the box is full and the ball is about the size of a volleyball, you can put it in your recycling bin or take it to a scrap yard and get paid for it!
Before recycling metal containers, rinse them out and remove any plastic or paper parts.
You can make money by recycling old holiday lights, USB cords, headphones, and wires! Just make sure to keep the holiday lights in their own box, and the other wires together.
Separate your aluminum cans from your steel cans. Here's a trick—use a magnet to check. If the magnet sticks to a can, put it in its own box.
Going for a walk? Don't forget your superhero gloves and trusty bag! Why? Because you never know when you'll spot some rogue cans just lying around waiting to be recycled. Grab them and bring them home for a superhero-style recycling mission!
Before you go to the scrap yard, check with your neighbors to see if they have any old metal items they no longer need, so you can make your trip worthwhile.
Learn more at Kids.ScrapUniversity.com,  Earth911.com,  RecyclingCenters.org, cancentral.com, and find your local scrap yard at iscrapapp.com. 
Million Cans Recycling Program
We created an innovative way to make metal recycling both enjoyable and accessible—by taking the scrap yard to the people! 
We've partnered with scrap yards all over the United States and Canada to provide roll-off bins to local elementary schools, allowing the entire community to easily recycle their metal items, such as aluminum cans, old Christmas lights, wires, copper, pipes, metal hangers, tin foil, and other metals that cannot be placed in regular recycling bins. The proceeds from the recycled metal will be donated to the elementary school to purchase educational resources.
Participating in The Million Cans Recycling Program is a great opportunity for everyone involved, as it provides numerous benefits for both individuals and the community. By recycling your metal, you're not only contributing to the betterment of our planet, but you're also supporting your local school.
The program is particularly exciting for children, who can witness the bin filling up with metal items right before their eyes. 
Local businesses can also contribute by bringing in their old metal items to the school parking lot, making it even more convenient to recycle and reducing the need to travel to a scrap yard. However, for larger items, we want to make the community aware that scrap yards are available to accept metal items and even pay for them, rather than having them end up in landfills. If you're interested in setting up a metal recycling program at your local school, please don't hesitate to contact us.
Take a look at this incredible video from one of the schools we worked with in Pittsburgh, PA through our Million Cans Program.